Sonic the Hedgehog Y is a new sonic game.  It is a classic style game.  It is the first game but with better graphics.  It uses most of the same elements.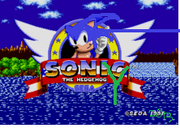 Sonic takes in a new world full of robots and encounters Eggman Y, a new improved Eggman who has new abilities such as laser of doom and the grappledeath which makes Sonic lose 1000 points. Sonic must make way into Eggman Y's fortress and defeat Eggman Y that turned animals into robots.
Reception
Edit
Sonic The Hedgehog Y was never released, but a fan-made game with Game Maker, IGN voted it the Best Game Maker Source and also edited Eggman sprite with different colors.